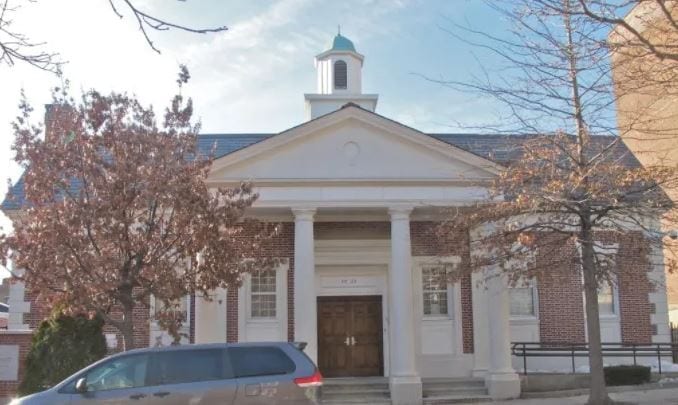 THE JOSEPH BULOVA SCHOOL OF WATCHMAKING
The J. Bulova Company was founded in 1875 in New York City as a maker of watches and clocks, becoming the largest watchmaker in the world. One of Bulova's most significant contributions to the world of horology was the creation of the Joseph Bulova School of Watchmaking, founded in 1945 by Joseph Bulova's son Arde Bulova (then Chairman of the Board). Arde Bulova "wished to repay, in some small measure, the sacrifice and service of returning disabled veterans after the Second World War." The Joseph Bulova School of Watchmaking was started as a non-profit institution to provide training and rehabilitation for disabled World War II veterans, building a physical school just a few years later.
The complex still exists on a narrow side street in Woodside. Design-wise the building uses elements of high style Georgian architecture and may have been an effort to associate the company to America's past. The building incorporates an early use of a wheelchair ramp, which was an integral part of the design in order to allow disabled veterans to enter the building easily. According to the history of Bulova, the school evolved into a full-fledged advocate for disabled people nationwide, and acted as one of the founders of wheelchair sports in America. The school closed in 1993. Today the building houses the Church of Latter Day Saints.
The Bulova School helped train an entire generation of American watchmakers. The school provided tuition-free education to teach disabled servicemen the skills of watchmaking "under the most expert supervision and with an all-inclusive curriculum in a pleasant environment where similar interests and problems developed a close-knit, affable group of men working toward common goals."
Veterans Watchmaker Initiative has taken the best of the Bulova idea and updated it for the next millennium.